Introduction
So what is this all about?
It is about building a complete Quadcopter/Drone from scratch that can be used for filming and aerial photography.
Project status (01.04.2023)
Project goals
Small package for ease of transport. What is a multicopter worth when you can not take it to places that are exciting. I am not a professional filmmaker so what I want is to enjoy my trip in the first place. The drone is the little extra that helps to capture some cool shots from an unusual perspective.
Capture great photos and videos. The footage will be the final result. If it sucks the whole project has failed.
Cheap. I am a student with very limited financial possibilities. I won't do a project if the costs are too high or I could just buy an equal (or better) product for the same amount of money.
Easy to use. Having to set up the drone for 10min before every flight is not cool or fun.
Robust. If I have to worry about the drone suddenly dropping out of the sky, loose signal or crashing then the whole thing is useless. You just wouldn't use it. Drones for filming are heavy (minimum 1kg). Imagine a 1kg+ aluminium block falling out of the sky.
As much flight time as possible. Nothing more annoying than having to bring three battery packs just to get 15 minutes of flight time.
Use of very basic materials and tools. I do not have access to rapid prototyping or any other kind of machinery. Just a drill and some saws. Has to be enough to get the job done.
What does this project do differently?
Compared to existing solutions this project aims to:
Build a robust digital video downlink using DroneBridge

Provide a real alternative to DJI Lightbridge
Custom RC & telemetry transmission using raw sockets and custom protocols
Custom Android app for ease of use
A high degree of modularisation and extendability!
All advantages of EZ-WifiBroadcasts technique + a complete copter command and control concept
iNAV & MAVLink support

Lots of documentation!
Table of Contents
Introduction – project goals
State of the art
Weight & performance management (Systems Engineering)
Where to start? (Powertrain guide)
The radio link (Systems Engineering – DroneBridge)
Choosing a flight controller
Choosing a remote control
Building an airframe
Setting up a ground station
Lessons learned
State of the art
In this section, I will give a brief overview of existing hardware solutions.
Consumer drones
In the last few years (2019), the market has been flooded by all sorts of drones from all kinds of companies. Many of them failed because they weren't able to deliver a good product at an affordable price. Since the release of the Phantom 1 in 2013 by a Chinese company called DJI, it has ruled the market. No other competitor has products that could take on DJI products when it comes to the combination of quality hardware, flight time, usability, video quality and range. Using DJI drones is often referred to as having a flying camera in the sky rather than a drone.
Radio link
While electronics and other hardware components are broadly available. The radio link and flight time might be the hardest part of every drone project. There are several solutions regarding radio technology that could be used for this project:
Traditional radio setup
RC signal (Throttle, Yaw, Pitch, Roll) and telemetry: One or multiple 2.4GHz digital radios. One for each data channel.
This includes solutions like the 3DR Radios for telemetry etc.
Video downlink: 5.8GHz analogue radio.
Advantages:
No interference between RC and video (robust)
video over the less used 5.8GHz results in better video quality compared to 2.4GHz
Low latency video (30ms – 100ms)
Off-the-shelf components and no need to code new software (plug and play)
The video gets bad when the signal is weak. A good indicator for signal quality (turn around before signal loss)
Camera with analogue video out can easily be connected (Hero4, Yi 4K etc.)
Disadvantages:
Two different radio systems with two antennas on the drone and ground station (weight, package, costs)
Analogue video: Bad quality and lower resolution compared to digital video. Much more affected by interference. Only 25mW transmitters are allowed in the EU, resulting in short-range and easy signal loss.
5.8 GHz penetration
DJI Lightbridge/Occusync
All digital video downlink (2.4GHz or 5.8GHz)
Plug and Play/Fly
Robust
Low latency (~150ms). Good enough for areal photography
Very expensive! 1000€ alone for transmitter units
WifiBroadcast
Open source
Low latency & up to 14km of reported range (in the EU expect about 1-2km without breaking the law)
Very cheap! ~100€
Robust and digital HD video
Lack of proper RC implementation and documentation
No custom Android app that fulfils the needs of aerial photography
More a video downlink project than a complete solution
Weight Management and How Everything Affects Everything
The most important thing when it comes to multi-copters is to do a lot of systems engineering. Every component affects multiple other components. There are just so many parameters that it is nearly impossible to design the optimal system without having custom parts (which I don't have). The only way is to find the best possible compromise.
Weight directly affects the most important attributes of a UAV. These are flight time, size, hazard in case of failure and maximum possible payload. While a lot of things define weight, weight in return also defines a lot of the components. You need to make sure that the motor-propeller & battery combination reaches its highest efficiency at the given load. A bigger battery will not always result in more flight time. Bigger batteries result in higher weight and thus cause more load on the motors. If the motor/propeller is not operating in the sweet spot it will draw much higher currents which dramatically reduces flight time.
To get an idea of how much the different components add to the total weight I made a chart showing the weights of my first calculations. This should be the first step in development. Getting an idea of how much the system will roughly weigh. Some of the weights are estimated (plastics, screws).
To get the weight approximation you need to have an idea about what components you want to use and how the frame should look like. So in the early stage, it is more like a "do it all at once" approach. Once you get that you start refining. This can take a lot of iterations until you get to a good result.
The above chart gives you some idea of what to expect when you want to build an action camera based drone. The weight will be around 1150 g if you try to keep it low. If you decide to use a retail frame the weight might be 200-500 g higher since those are a lot heavier.
The estimated 1200 g of overall weight will be the starting point for the following powertrain calculations.
Powertrain & Flight Time
Compared to racing drones we do not aim for high speed and acceleration values. A camera drone needs as much flight time as possible while still being able to get the job done. All other characteristics like range, quality, and speed just need to be as good as necessary. This assumption allows us to reduce the complexity of the problem a little. It leaves us with an optimization problem where we want to have the max. flight time while keeping all other components "just good enough". The definition of "just good enough" is different for every project. Sometimes it is necessary to adjust your definition slightly in order to get better system performance.
With this project, my aim is to get a flight time of somewhere between 22min and 30min. This drone will be very similar to a DJI Phantom, so Phantom components are a really good starting point.
Motors & Battery
I choose the T-Motor 6th Anniversary MN2213. All four of these cost around 70€ (which is really cheap!). Looking at the specs they are a good choice for our project (if we wanted to spend more money there might be better alternatives):
They produce around 600g to 700g of thrust each, running on 3S with the included 9″ propellers. So the current draw is somewhere around 3A while hovering. Tests by other users show that they can easily handle a bigger propeller (~10″). That will increase the efficiency and will give us a hover current of around 2.5A running at 3S.
Using a 4S battery would give us a lot more thrust but efficiency will be lower thus flight time will decrease. This is not something we want, but worth to keep in mind in case we want to have a heavier payload someday.
At this point, we do not know the exact numbers since we just use thrust data gathered by people of the internet. A 3S 5200mAh LiPo (similar to what's inside the Phantom) will most likely give us the flight time we want.
It took a lot of iterations till I found a good motor, propeller and battery combination. Looking at existing builds or specifications of commercial products definitely helps and speeds up the process. Especially the pre-estimated weights of the battery and overall UAV really help.
Sometimes it can be hard to find proper motor thrust/power consumption data. It is not worth looking at motors that do not come with detailed thrust stand data.
ESCs
Just pick whatever gets the job done. I choose the T-Motor F45A ESC.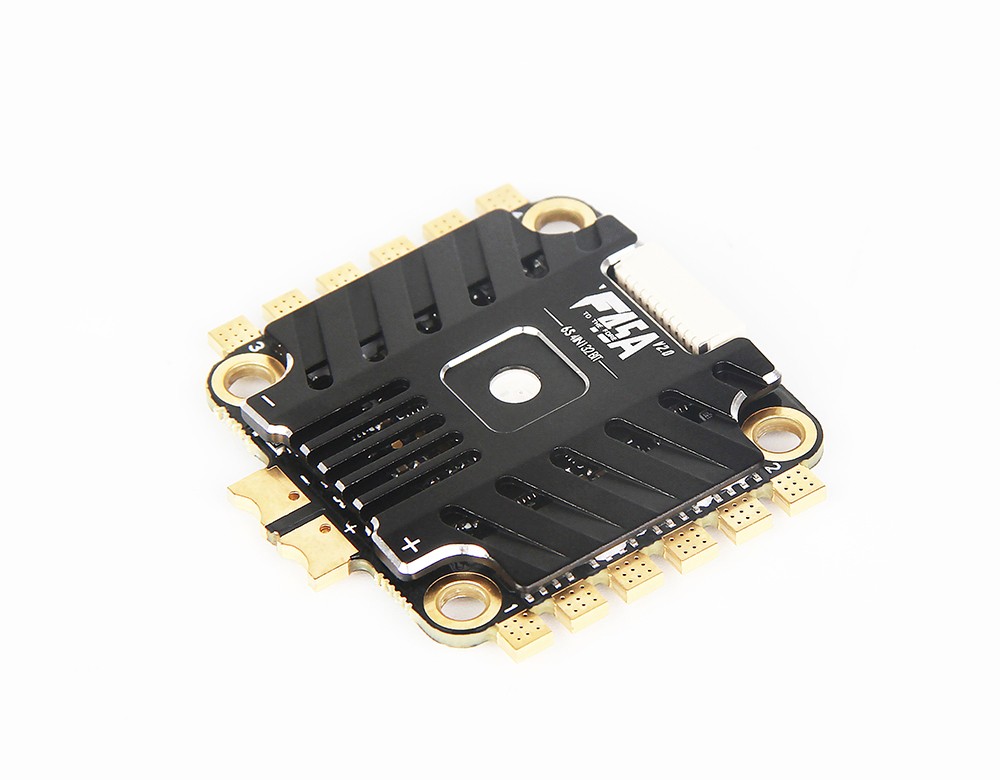 Flight Controller
Let's talk about firmware first. It all boils down to two options:
Ardupilot/Px4 autopilot
iNAV
Ardupilot uses MAVLink for all kinds of communication messages. It is very much the standard for hobby projects as well as professional drones. It offers much more compared to iNAV. Examples are: More options for mission planning, better ground control stations (GCS), professional hardware options, software in the loop (SITL) simulators and a library to communicate using MAVLink.
The biggest downside is the size and price of the hardware required to run Ardupilot.
For the GPS module, I use a genuine U-blox neo-M8N module from Drotek. There are many fake products that do not perform that well. I also mounted the GPS-Module on a reflector which massively improved signal quality.
The Frame
CAD-Screenshots: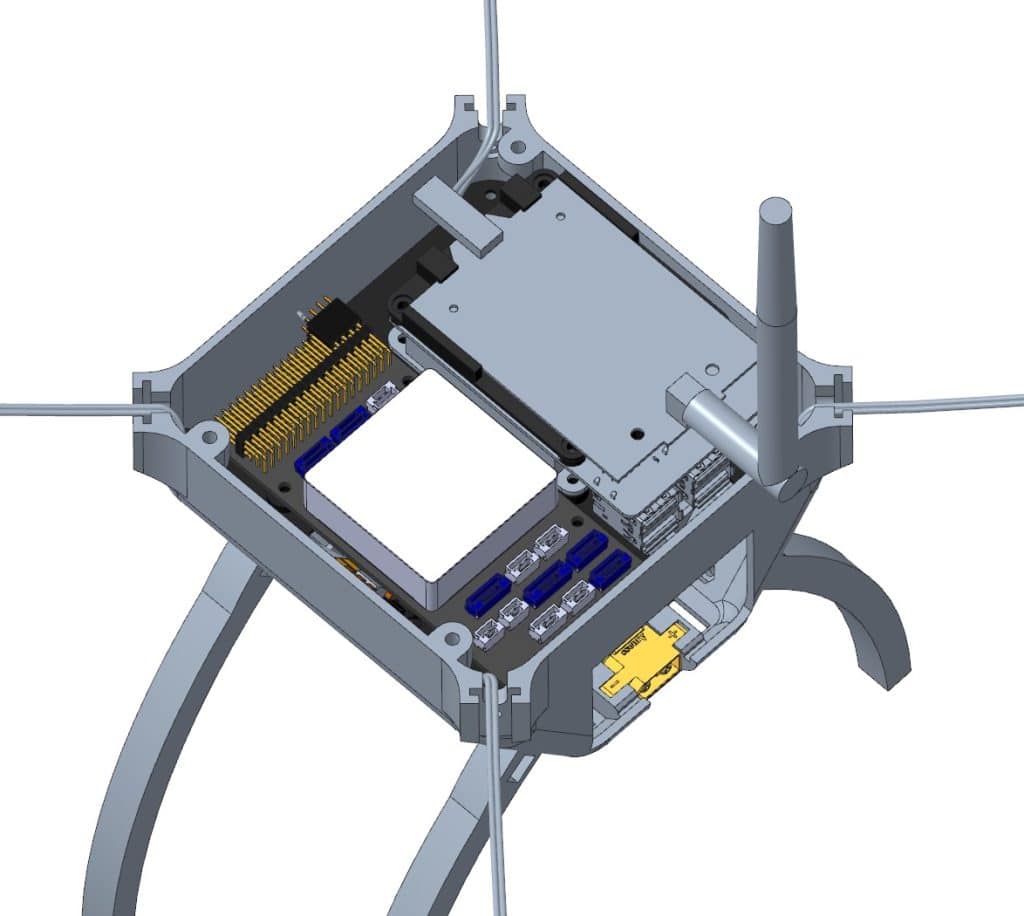 Here are some pictures of the current design. I will try to get some custom PCBs manufactured to reduce the cabling effort for signal lines.